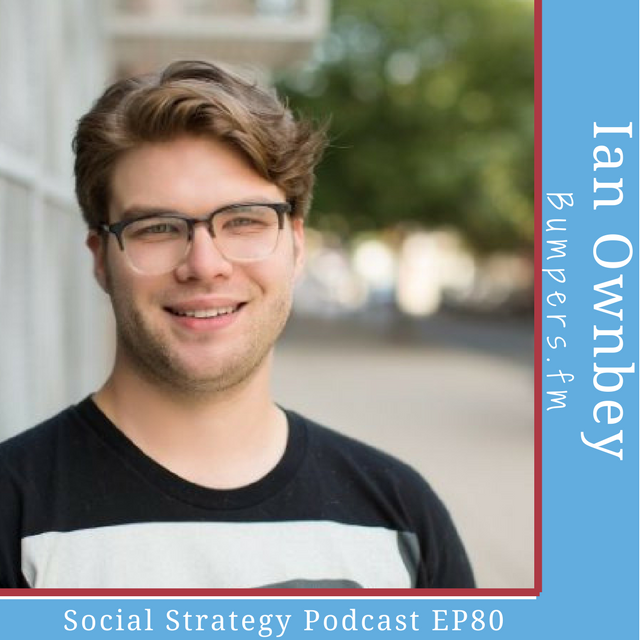 Listen to my interview with Ian from Bumpers.fm
Don't Miss An Episode
Exclusive Email Only Content
I love startups! I think the culture from a work perspective is what everyone dreams of, and the have the flexibility to innovate as the market changes. Bumpers.fm is the perfect example of market disruption in the ever changing world of podcasting. In this episode, I get to speak with one of the co-founders of this unique company.
Meet Ian Ownsby co-founder of Bumpers.fm, a podcasting platform that's disrupting the industry by allowing anyone to record a podcast from their mobile device for with unlimited audio.
Here's some of what we covered:
[3:00] Why Bumpers.fm was created.
[12:00]How Ian and his team are changing the landscape of podcasting.
[18:01]The problem with podcasting today, and how Bumpers disrupts the status quo.
[21:00]The new revenue model that podcasters should really be using. (Your Mind will be blown!)
No Up Front Cost
That's right! I said unlimited audio for free. Now the platform isn't really designed for just uploading all your podcast as a media storage hub but, Bumpers.fm gives you the freedom to create a show that's an hour or longer and have it live online with no upfront cost to you as a creator.
Of course, you're recording on your phone which for some may not seem like a great idea, However, with the equipment that's now available for iPhone, you can hardly tell the difference between studio and good audio created with your phone. Personally, I use a Shure MV88 plug-in mic that works with iPhone. There are a ton of other phone capable mics but this one is top notch and sounds amazing for such a small device. Cost is around $129 which isn't needed to start but if you plan on doing very much audio it's not a bad choice of equipment.
In addition to creating the entire show on your phone, I'm sure the next question is how do I get my intro music in. Well as of right now you can't import it in from the outside, but Bumpers has a ton of short intros, zingers and transition music included on the platform. Think soundboard. They work well in most situations and can make the audio a little more interesting and give your creations a more produced feel.
As a content creator, you can test the waters about your show concept without having to commit to buying hundreds of dollars of equipment before even knowing if podcasting is right for you. Now there's a big difference with this platform since everything is what's considered "in network" meaning that your files are stored on their servers and you're not submitting the RSS to iTunes.
In my opinion, that's an advantage. You get to test and get a feel for podcasting, but you can be a little limited in options for recording unless you get creative. Meaning that since the platform is not built for remote interviews, you would have to still record via skype or some other method. Then you would have to play that audio back over a speaker to get it into Bumpers. However, there are shows on the network that were entirely recorded that way so it's possible.
Early Adopter Advantage
I feel there's value in being early to a new network because with enough effort you can be seen as an influencer on said network pretty quickly, and with less effort than it would take you on a more established network. Bumpers, for instance, is growing and the platform is constantly being improved with new features and more visibility in the space, so f you launch a show now and are consistent with producing and inviting people to listen to your work, there could be an opportunity for you to take advantage as an early adopter. I'm not sure what that would be but if you build a committed following off of iTunes you don't have to depend on that network for your listener base.
All Things Considered
Of course with any network, there are disadvantages. Like putting in the time and building a following only to have the start-up close the doors like past networks. However, I don't think that's a thing that should keep you from building a presence here. The founders are thinking about the future and how to take care of the content creators from an earning perspective. Imagine knowing if someone actually listened to the ad on your show because it's "In network"
You might not have the exposure of iTunes while "In network", but they do have an RSS that could be exported out and exported to something like Libsyn, Podbean or Spreaker. Not to mention you could just use the BluBury plug-in to import the shows and publish them that way. I actually published the last episode doing that very thing by importing the RSS into Podbean to get it on iTunes.
By now I'm sure you can tell I think Bumpers has a ton of potential and if they continue to refine the platform
How to Connect With Ian Online:
Pre-Order Now!
My new book published by Morgan James Publishing – Master Your Message The Guide to Finding Your Voice in Any Situation is for Pre-order!  Just click the link below.

Early Bird Pre-Order
It's an exciting time in my life to have the honor of publishing a book with a traditional publisher.
[kl_kudanileads_inline optin_id="optin_2″]
 Welcome Warby Parker
I'm trying out Warby Parker as an affiliate to see if you get value from seeing their products here. As you know I use them and have about three pairs. It's actually time for a new pair and the ones listed are the ones I'm considering. Let me know what you think about them and which ones you think I should go with.

If you enjoyed this episode of the Social Strategy Podcast
Music Artist in Episode:
Singleton Singleton was so generous to give me permission to use their music on this podcast so make sure to check them out. Like Singelton on Facebook: Like Singleton on Facebook