Listen to the Latest Interview (00:15:03)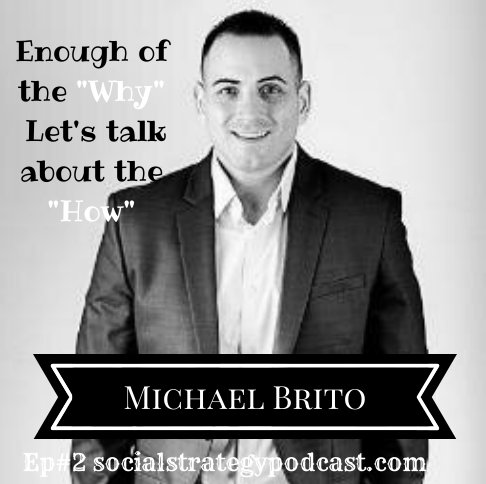 In this episode of The Social Strategy Podcast I'm I get to chat with Michael Brito Senior Vice President of Social Business Strategy Edelman Digital.  Michael helps his clients transform their brands into media companies by implementing a social business strategy and operationalizes their content strategies.
Michael was in town speaking with the Social: IRL which stands for Social: In Real Life as part of their speaking, training and conference services.
I had great fun recording this quick interview and was able to get in one of my favorite questions to ask keynote speakers that always gets a great response.  You're going to have to listen to the podcast to find out!
Pre-Order Michael's book: Your Brand, The Next Media Company How a Social Business Strategy Enables Better Content, Smarter Marketing, and Deeper Customer Relationships.  This book is not just another social media book it's really a step by step process that helps everyone from a consultant up to a large brand understand the best way to approach their content strategy.
Specifically  in this episode we talk about
How to translate large brand content strategy into a small to medium size business.

The difference between content marketing and content strategy.
Should you have a content schedule?
The five characteristics that media companies have that brands large and small need to adopt
Resources and Links in this Episode Include:
The Slide Share of the presentation from today's workshop: Your Brand the Next Media Company
Michael on Twitter @Britopian Or on the Web http://britopian.com
Vernon on Twitter @RossPR
Thanks Michael
Thanks Michael for coming to St. Louis and really providing some great takeaways from the conference.
Free Audio Book : Try Audible Now and GEt your Free Copy of  
Coming Up 
I'm attending FinCon2013 – Financial Bloggers Conference  – Keynotes that I'll be interviewing for the podcast are Pat Flynn from Smart Passive Income blog, Derek Halpern from Social Triggers, Jamie Tardy The Eventual Millionaire and Jean Chatzky financial editor for NBC's TODAY show.  Last but not least David Siteman Garland from The Rise to The Top so look for those podcast coming up in the following weeks.
Help the Show Succeed!
If you love this podcast please take a minute to leave a rating and honest review of the podcast on iTunes. Help me move up in the rankings in New and Noteworthy and the podcast succeed.  I'm aiming for 100 5-star ratings before the end of the year!
Please click the icon below to Rate, Review & Subscribe
I want to know what you think so please leave a comment in the comments section below.
Transcripts are coming soon
Lastly a Special Shout Out
This shout out goes to Ben Smith!  Ben thanks so much for all the things you did with helping bring Michael to St. Louis
Music in this episode is from Amanda Palmer and can be found here: https://soundcloud.com/amandapalmer/one-tiny-thing