Listen to the Latest Interview (00:41:47)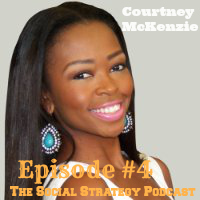 In this episode of The Social Strategy Podcast we get some awesome nuggets from Courtney Mckenzie.  Courtney is the creator of the business podcast Entrepreneur 2.0, the Founder and CEO of Crowned Public Relations.  She helps small business owners connect with their audiences online using new media strategies. In addition to all of her success she's a former Miss Jamaica  Intercontinental and Miss America contestant! Tune listen to this episode to and find out that Courtney is not just another pretty face.
Specifically  in this episode we learn about:
Why the project section in LinkedIn is vital to landing new business

The Importance of surrounding yourself with likeminded people
Why research is your best friend in networking
Seeking out mentors – Why it's key to your success
… and much more.
Continue reading "SSP 004: Courtney McKenzie From Entrepreneur 2.0 Talks Shop"