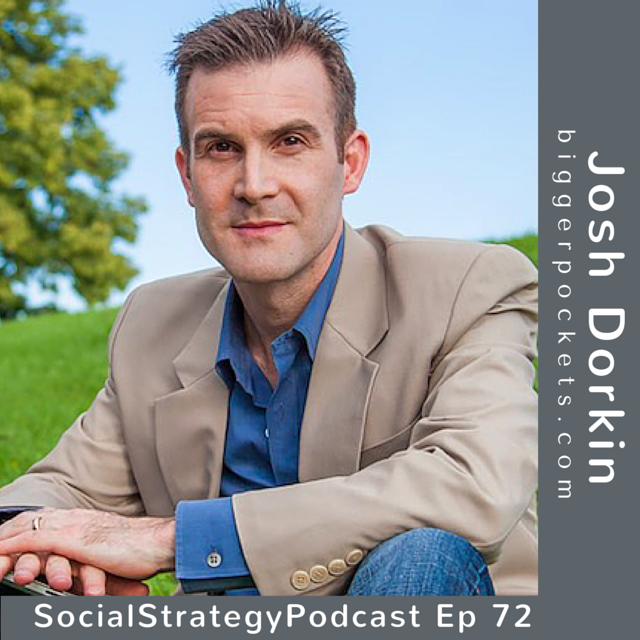 Listen to the Latest Interview (00:52:51)
Don't Miss An Episode
Exclusive Email Only Content
In this episode we welcome entrepreneur Josh Dorkin.  He's built the leading real estate investing, social networking community and resource portal on the Internet BiggerPockets.com. We dig into this amazing community to learn why Josh built Bigger Pockets, how he's made it successful along with the reasons you should be building your own community right now!
Here are the highlights of my conversation with Josh:
01:50 : How Josh started the largest real estate investing platform online community, BiggerPockets, the purpose behind building it and how he grew this community to close to 500k members in 11 ½ years.
[05:11] : The mistakes, iterations, time, suffering, sacrifices and patience involved in building his site in and how not quitting had paid off for Josh in the long run.
[06:34] : How he makes sure his community understands the concept behind BiggerPockets and the difference between Josh's site and everyone else's,
[10:48] : Why Josh chooses not to sell courses on BiggerPockets and why he feels this information should be free.
[13:32] : About the BiggerPockets app with its forever free content and what comes with the pro version.
[15:46] : Josh shares that learning is an ongoing process, the success stories in their community, his valuable advice if you want to jump into real estate and our discussion about partnerships and collaboration.
[23:48] : About the books he had helped published and co-authored, what you will get from them and the purpose of getting them out.
[26:14] : The reason why he added the publishing arm in their brand, how he got it started and the metrics he views as gauge in defining a successful book launch.
[30:00] : How they support the authors that contribute to their company, their methods of distribution, and tips in publishing.
[37:00] : Why their website forums are still the main channel used by their community compared to Facebook, Google Plus, LinkedIn.
[39:40] : Josh's advice to someone who is just starting out building a community, a blog or a podcast on how you can engage a community and where he recommends that you start.
Some quotes and advice from Joshua:
When it comes to money, you don't ever want to listen to just one person. That's a really bad idea.
There's no one path for one person, it's always going to change based upon your demographic. The key is to learn what the different pathways are, what the difference possibilities are and make your choices based upon that.
If anyone ever tells you that they know everything or if they're an expert, run.
If you are going to jump in, it's your responsibility to be smart. Nobody's going to hold your hand, nobody's going to make you rich and there is no fast way to make money and get rich in real estate.
Just do what you do; keep your head down; focus on what it is that you are trying to do; forget about everybody else; don't worry about the competitors; don't worry about the drama. Just create a plan, stick with it and you'll be fine.
Connect with Josh:
Podcast Resources
The following section is to highlight and talk about products I use and would personally recommend.  Understand that with some of these recommendations I may be paid an affiliate commision if you choose to purchase or sign-up with the service.  This will not cost you any additional money but does help keep the show going.
Introducing ScreenFlow Partnership – Screen Recording
I also mentioned in the podcast about a few of the things I've done lately with ScreenFlow.  As I mention below I use it on a regular basis because it's a quick tool to use and I can do very professional looking short videos quickly.  Take for example the video below featuring Danielle Smith from @DanielleSmithTV who's the upcoming featured speaker at the next SMCSTL Social Media On Tap Series.

I also mentioned ScreenFlow for the SnapChat for Business video post I did.  It's not a full training but just some quick tips on using the tool.  It's here: http://vernonross.com/snapchat-for-business/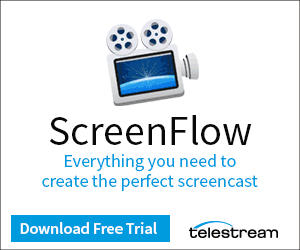 I personally use ScreenFlow on an almost daily basis and have been for a few years.  It's a much better solution than other more expensive programs out there and it's quick to pick up and start using right out of the box.  If you attended Podcast Midwest last year you know that Telestream among others sponsored a 4 license give away for my listeners and attendees of the podcast.
Podcasting and Media Hosting

Just use Promo Code: VRPODBEANFREE when you sign up. At the end of the trial you still have the free option so it's a no brainer. For more details and to check out our other "Friends of the Podcast" <= Click the Link

I've worked out an exclusive deal with Spreaker and seriously I'm the only one right now that can offer this deal. When you click on the Spreaker banner of the image this post you will automatically get a 30 Day trial for any of the Pro packages Spreaker offers. Not just a free Broadcaster account but up to the $119 a month account usually reserved for radio stations.
If you enjoyed this episode of the Social Strategy Podcast
Music Artist in Episode:
Singleton Singleton was so generous to give me permission to use their music on this podcast so make sure to check them out. Also like them on Facebook: Like Singleton on Facebook