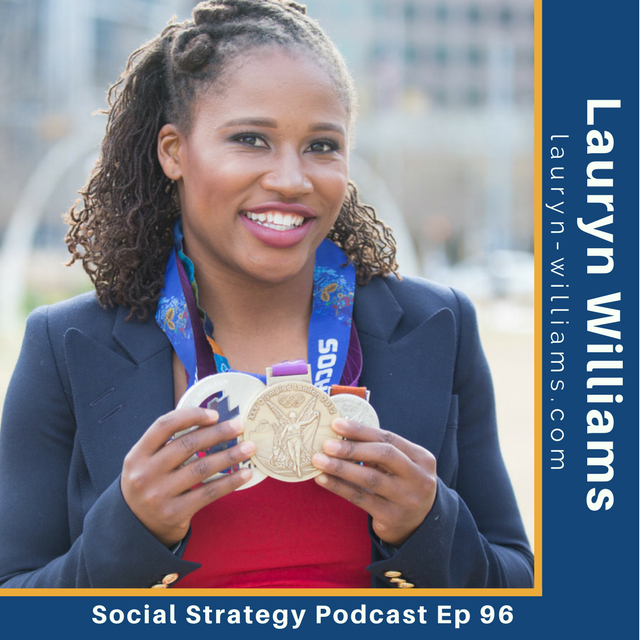 Listen to the Latest Interview (01:00:34)
Don't Miss An Episode
Exclusive Email Only Content
Lauryn Williams is one of five athletes to have won a medal in both the Summer and Winter Olympic games, as well as the first American woman with this achievement. Lauryn holds one Gold and Two Silver Medals from the 2004,2012, and 2014 Olympics Games.  One of the reasons I wanted to have Lauryn on the show was to launch into Black History Month with a Millenial who's made a positive impact on African-American culture.
Outside of sports Lauryn has mastered the game of finance by obtaining her CFP.  She now teaches other Millenials and Professional Athletes about personals finance and building wealth for the future. 
Not only are her achievements great in their own right she's in a unique position to have solidified a place in Olympic history for all time.   As a people, we're proud of Lauryn and of course, she's represented our Nation and brought back Gold and Silver.  Share this episode with your daughters and sons so they can see what's possible with hard work and that Black History Month isn't just a once a year tradition that happens in February.   Look to these 2108 Olympic Games and whatever your culture, celebrate the athletes you identify with but then let us all (at least my US friends) celebrate as Americans.
Watch a short clip highlighting Lauryn's 2014 Sochi Olympic Win
You can keep up with all the excitement from Team USA over on their YouTube Channel: https://www.youtube.com/channel/UCPGpDwKpKj9vcoFAOxSbr7A
Connect with Lauryn Williams:
 Featured Partnership: Media.net
As you know I'm always working to bring new sponsors to the show that will provide value and help your business.  That's why in October whilst attending Fincon (Financial Bloggers Conference) I met up with the people from Media.net to talk about how they could help me and my audience.
So all I'm asking of you as a visitor to the site and as a listener of the podcast is that you check them out via my link and give a few of the ads a try.  Just click on the link to go to my custom page https://media.net/vernon 
I work with Podbean to help some of the largest companies in the world.  I'm all in on Podcasting as you know and I recommend that if you don't have a podcast that you consider my recommendation to try out Podbean for 30 days risk-free trial.   Just click the following link to check them out: http://podbean.com/VR 
If you've booked time with me, you know my 10-minute triage calls then you've used my scheduling link.  It's a service that's good and I didn't have any real complaints except it's on the expensive side.  I've used Schedule Once since I started podcasting so I'm pretty vested in it, but it's time to say goodbye. 
It's all Noah Kagen's fault, that's right!  If not for AppSumo I would have never discovered Book Like a Boss.  I picked it up on a Sumo Deal => Check them here: Here's the page: Vernon's Book Like A Boss Page
I have a special link I can send to my podcast guest to schedule and it all goes on my calendar!  Not only is it more affordable than using Schedule Once,   I've already had conversations with the CEO and love they are working on even more enhancements based on user suggestions.   Until Valentin's Day, you can get 40% off with this link, Get the Deal I would love to know what you think about my page.  Don't worry if you're not interested in buying it but want to try it out first just click the view all the plans on the page and sign-up for free.
If I had this book as a young awkward kid, I wouldn't of felt so alone in the world. – Marketia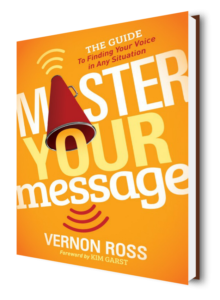 As an author As, to hear those words about work I've produced and the story I told in Master Your Message was extremely powerful.
In Master Your Message, I  lead you through my journey to find my voice.  The difficulties, challenges, and revelations I had along the way.  I've also included a few very notable mentors that were key in my writing journey, Chris Brogan, Patrice Washington and Matthew Turner.  It would mean the world to me if you would click below to grab your copy of Master Your Message.
If you can't buy a copy all I ask is that you phone your local library and request a copy.  It's available in every library in America.
Music Artist in Episode:  Singleton Singleton was so generous to give me permission to use their music on this podcast so make sure to check them out. Like Singelton on Facebook: Like Singleton on Facebook