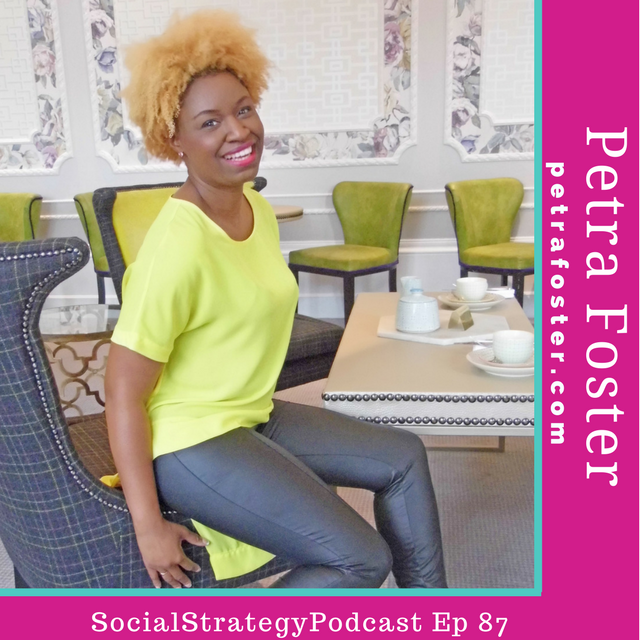 Listen to the Latest Interview
Don't Miss An Episode
Exclusive Email Only Content
Coaching is one of the fastest growing professions on the planet right now. In coaching, you can really embrace your genius and show up in a big way for your clients. However, something really bothered me about coaching I wanted Petra, my next guest, to sort out for me.
Why are so many coaches broke? Don't worry we get to that.
Petra Foster is known as client enrollment strategist. She helps coaches understand how to build an effective business that can not only bill multiple thousand dollars per month but to also provide a massive amount of value to their clients.

The Problem Starts With Your Fee Structure
Initially, coaches go into the business to help people, whether it's in the area of health, business, lifestyle, etc.   The problem is they don't build a fee structure that's scaleable based on the amount of value they're delivering, so it's no surprise they aren't able to earn enough to stay in business.
Limiting beliefs around money and feeling guilty when they do charge higher dollar amounts.  Because they are helping people, they believe they can't charge them.  Due to this, they will charge per hour and tend to stick to this not realizing that there are people out there who are willing and able to invest in themselves in a higher dollar amount. Because they do not have a system to change this, they remain broke.
Backstory to Success
Petra started as a coach when a disaster at her husband's workplace forced her and her husband to really take an inventory of life.  He was a long-distance driver and he fell asleep at the wheel. They sat down, evaluated their lives and decided to start a business with the intention of eventually being full time. They chose t-shirts and embroidery business uniform shirts.
Going all in with their savings Petra was serious about making money right away.  You'll have to listen to what she did to get started.  Skip ahead here:
You won't believe where she landed her first clients.  It's something you have access to but hate doing.  Find out what it is:
Would you believe that Petra priced her first coaching package $1500 and the second, $3000 and shared that she had zero strategies at that time for why she priced it that way but ensured that the value she gave her customers made it REALLY worth their investment.
If you've listened or you're following along with the audio the value of simplicity should be top of mind right now. Think about what you are going to do, then execute.
Closing the Free Session
How many free sessions have you given away?  How many discovery calls have you made that start off at 10 to 15 minutes and end up into a full blown coaching session?  Even if you get the new client you're earning sometimes less than minimum wage.  Here's how Petra can help you get out of that cycle and get you to a better place where you're performing at your best and delivering to your clients what they deserve.
Petra works with coaches to help them transition to a higher revenue which is completely dependent on enrolling premium plans. She helps them position themselves, create a signature offer and master selling techniques to get a yes on the first call.
She calls this system the 4 C's .  I've outlined the basics below but you have to listen to get a full understanding of the value of this system.
4 Cs:
Confidence – you need to be able to speak about what you do, why you are doing it, and be able to book a consultation.  What you have is in you so this is a soul-searching process. You need to understand the depths of who you are, what you are and what it is that you do. You need to have complete self-assurance and be self-expressed.
Clarity – you need to talk about what you do in a compelling and clear way. You have to have clarity on who your target market, what their needs and wants are and be able to message that. You need to have a specific blueprint on how you can get someone where they are now and what their desired transformation is.
Connection – Some people are going to be for you and some will not so remember to polarizing. When you are doing your marketing, write and make it as if you are speaking to just one person. Reach out to their emotions by sharing exactly who you are, talking about your personal story and views, and talking about things other than business.
Conversation – So many consultants are scared of selling and do not know how to ask for the sale.  In having these talks, you need to take the lead and let them see the value of what you are offering. Have a structured, collaborative conversation so the person you are talking to understands where you are taking them and the results they are going to get when they work with you.
Some Words of Wisdom
I didn't have time to be afraid.

I don't overthink – this is one of my greatest strengths.

You have started because of the passion you have to help people but you have to understand that you are a business owner and businesses are meant to make money.
You've got to be confident in your voice, who you are, who you stand for.
·If you can't say it, you can't sell it.
Know how to make your services tangible during sales conversations so they can see themselves in the most positive future.

Connect with Petra Online:
Petra's Twitter 
Follow Petra On Facebook
YouTube Channel: High End Rollers TV

Get Petra's Client Getting Methods
The Book Is In Full Swing
You can now Pre-Order.  Master Your Message – The Guide to Finding Your Voice in Any Situation.  My book leads you through my journey to find my voice along with some very notable mentors like Chris Brogan, Patrice Washington and Matthew Turner that have been a big influence in my life.
[kudanileads_on_click_intent optin_id=optin_4]
Download Top Three Tips To Conquer Fear
[/kudanileads_on_click_intent]
Music Artist in Episode: Singleton Singleton was so generous to give me permission to use their music on this podcast so make sure to check them out. Like Singelton on Facebook: Like Singleton on Facebook