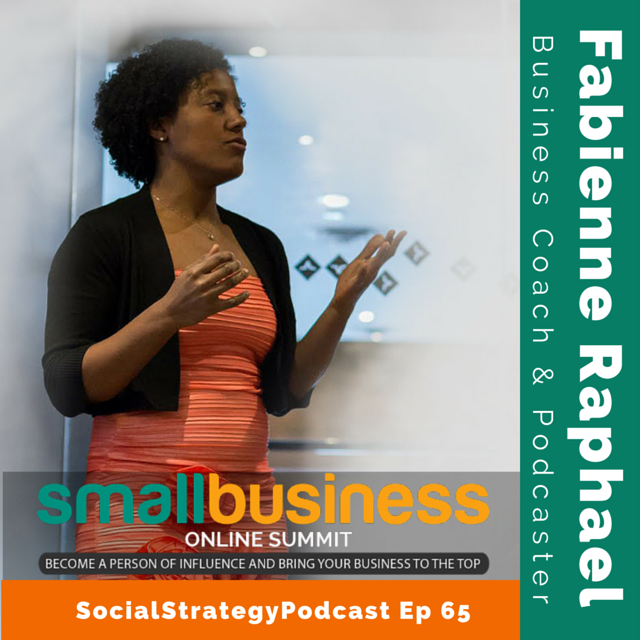 Listen to the Latest Interview (00:55:57)
Don't Miss An Episode
Exclusive Email Only Content
What You Missed
You heard from Josh Elledge (Exclusive Interview) and learned how to get booked on Television.  We're talking millions in free media exposure! Josh talks about the one thing you must have to get booked.
In this episode I have a return guest a former Olympian Fabienne Raphael.  She's a writer with several published works, a business coach and the host of the podcast 'Marketing to Crush Your Competitors'. She's the creator behind Small Business Online Summit featuring yours truly and 28 other amazing business influencers.
Here are the highlights with my conversation with Fabienne:
[10:42]

: Fabienne explains why she uses Periscope for her business

[13:02]

: Fabienne talks about how she feels about people sharing her content writing on a third-party websites.

[15:11]

: How you can get popular on Periscope quickly.

[21:23]

: A discussion on the merits of Meerkat vs Periscope.

[24:01]

: Fabienne's virtual summit "Small Business Online Summit"

[30:25]

: Fabienne explains what "a call to action" is and how it works and how it can help with building an email list

[36:12]

: Why it is important to reach out to influencers and have them as speakers in one's summit

[38:07]

: Fabienne explains the 3 steps to putting together a successful online summit

[51:29]

: Fabienne talks about how she feels about publishing low – content books such as journals on Kindle.
Continue reading "Small Business Online Summit with Fabienne Raphael Ep65"