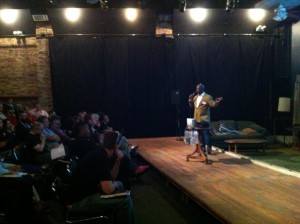 I'm a internationally known author, podcaster, social media strategist and speaker whose insights are based on real world experience.
"Vernon is one of the best podcast hosts I've come across as a guest-expert.  What sets him apart is his ability to deep dive into questions and ask guest the things other host won't." Shola Abidoye – Convertport
Vernon Ross is a very well spoken, engaging and a warm speaker. He has a captivating presence and exudes confidence, strength and determination.  I would highly recommend Vernon as a speaker, panelist or emcee for any future event. And, will be asking him to come back again next year given is huge presence and impact on the overall success of my conference."  Perry Drake – Assistant Professor, College of Business, University of Missouri – St. Louis

My goal when interacting with an audience is to deliver information in a way that's fun, engaging and motivates your team to take action after the event.
A Quick Response to emails and phone calls. You time is valuable.
Personal Attention To provide your audience with the most value I need to understand expectations.  So we spend as much time as you need to flesh out the all the details for your event.
Event Promotion Utilizing my entire network including my podcast and social media channels Twitter, LinkedIn, Facebook etc. I have an active and engaged network and email list of over 225,000 people.
Passionate delivery I'm totally in love with sharing relevant information with an audience.  None of the advice I give is based on concepts of just research.  I deliver talks based on my personal real life experience.
Experience I have  presented on stages from coast to coast across the United States with audiences ranging from an intimate 50 attendees to well over 1000. Large or small, I can inspire my audience to take action.
Timely follow-up I'm sure you've heard the fortune is in the follow-up.  I'll always follow up with you to find out what you loved and what your audience may want more of.
Social Media – Leveraging LinkedIn Using Powerful Tactics to Build Your Network, Land New Clients or Land Your Dream Job.

Borrowed Influence – Building Influence through Podcasting.

Master You Message – How to Deliver Personal Stories to Connect with and Move Your Audience

Stream Your Way To Success – Building You Business with Live Video ( Very Interactive and Fun)

Intentional Networking – How to Networking with Purpose and Intention.

Social Media Success – Practiced tips and strategies that equal success. 


Vernon is an author, podcast host, social media strategist and entrepreneur.
Vernon is an internationally known podcaster, author, social and digital strategist and inspirational speaker whose insights on based on real world experience.  He's a adjunct professor at the University of Missouri, St. Louis and has been also been a guest speaker at Webster University and St. Louis Community College.  He speaks frequently on a variety of digital marketing topics at marketing conferences and workshops.  In addition Vernon has spoken to hundreds of groups, trained entire sales forces and performed as an emcee for the Midwest Digital Marketing Conference.
In addition to speaking Vernon also teaches and develops online courses that cover the areas of Social Media, Sponsorship and Influence and can be found at: http://socialstrategyacademy.com 
Vernon serves on the following boards:
Social Media Club of St. Louis

University of Missouri St. Louis – UMSL Digital Co-Chair
Vernon has also been quoted in several books including most recently:
Real Money Answers for Men –  by author Patrice Washington (The Money Maven the Financial Voice of The Steve Harvey Morning Show)

Interview Like Yourself…No Really by author,  Jezra Kaye
Show Me the Bolg – Featured Speaker